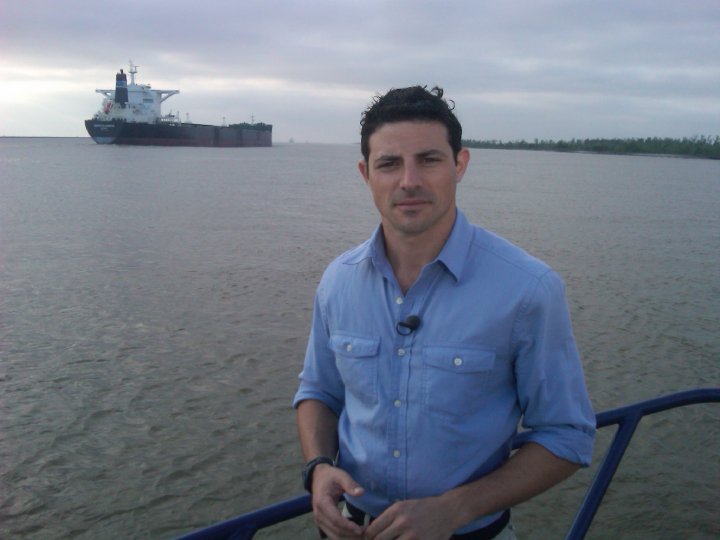 Move over Anderson Cooper, seems like there's a new kid on the block. The hideous situation in the Gulf involving BP and the massive oil spill had lead to one bright spot: Matt Gutman. If you've been watching ABC, Matt Gutman appears all over the place reporting on what's new in the crisis and each day the news seems to go from bad to worse. Yet, fans seems to be flocking to ABC and are all in tizzy over news' next rising star, Matt Gutman.
Back on June 4 I made a very simple post, "Matt Gutman, Heating Up ABC News". I really didn't think much of it: I just wanted to comment on the major upgrade I noticed in who ABC was choosing to cover the situation. Gutman's been on the scene since the start, as has David Muir … but come on, it's Matt Gutman that we're all going ga-ga over. It's his Abercrombie & Fitch style, his Spartan-esque physique the sheer confidence and sex appeal he manages to muster up while reporting on such a depressing situation that makes him oh so appeal. I had no idea that my little man crush on Matt Gutman would be picked up by other blogs and fans alike and that this blog would suddenly become the epicenter of Matt Gutman fandom. And I'm cool with that!
There's a lot of questions floating around out there about who exactly Matt Gutman is. Well, I'm working on getting a bio of him … from him! Yes, you heard right. I've made contact, and have been contacted, by the man himself. You'd be surprised what a link and Facebook connection can do for you these days. Matt caught wind of my post and blog and actually sent me a message (along with a Facebook 'friend' request. I know, be jealous). Here's what Matt Gutman had to say to little ole me: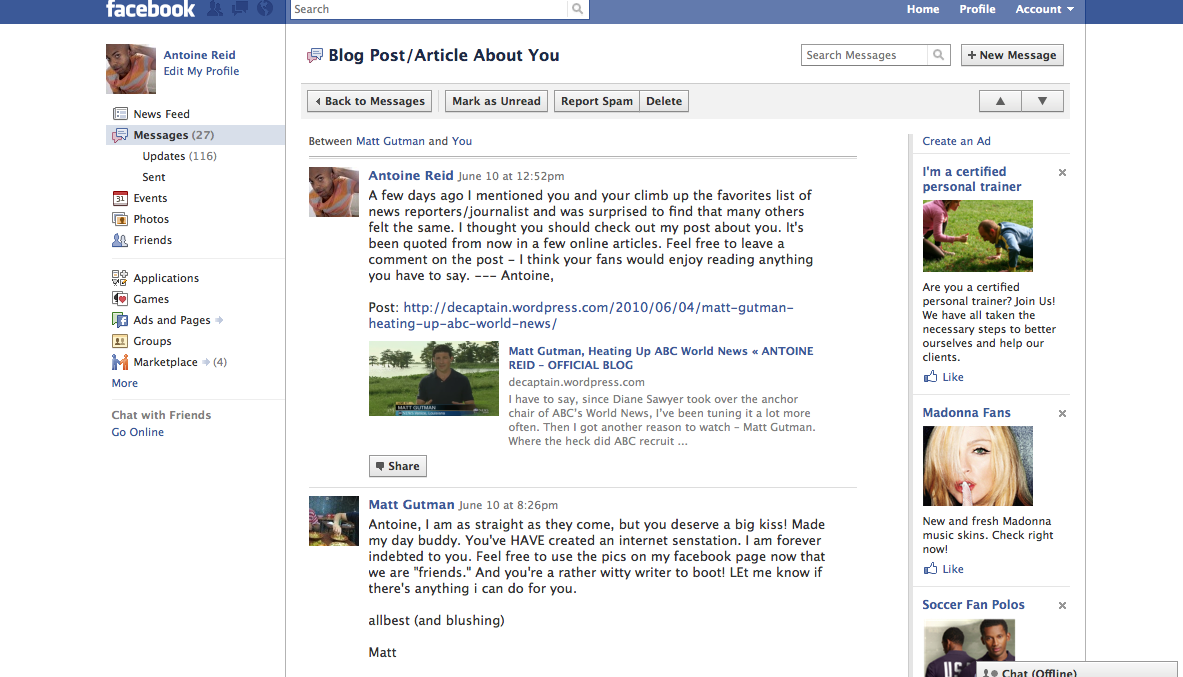 "Antoine, I am as straight as they come, but you deserve a big kiss! Made my day buddy. You've HAVE created an internet senstation. I am forever indebted to you. Feel free to use the pics on my facebook page now that we are "friends." And you're a rather witty writer to boot! Let me know if there's anything i can do for you.
all best (and blushing)
Matt"
First of all, how awesome is that? I was more than beside myself and flattered that Matt Gutman of all people would take the time out of his grueling schedule to drop a message. I've asked him if he could provide something of a biography or little write up of "Who is Matt Gutman?" for the blog and he responded that he'd send me "a bio as soon as I have time to slap something halfway decent." So understand people that ABC has this guy playing Superman at the moment and he probably doesn't have many free moments to sit around and write about himself. But the request has been made, he said he'd do something, and whenever it gets done, I'll post it. BUT I do have a little information on him that should satisfy inquiring minds for now:
Matt Gutman is married. Based on how people are searching and arriving at my blog, it's clear the #1 question is about this man's marital status. He and his wife Daphna celebrated their third wedding anniversary this past May. I know, hearts are breaking even more across America.
Is Matt Gutman straight or gay? Well, I'd hope the above question/response would answer that but if you need me to spell it out, he's straight! He's a husband and a father! Again, I know heart's are breaking but there you have it. He may be hotter than Anderson Cooper but there's no lingering "is he, isn't he?" question to deal with. Yes, it is possible for a straight man like Matt to be fit and have an impeccable taste in form-fitting clothes.
Did Matt Gutman ever do a story about scuba diving? Hm, he's really smashed into the spotlight over the past month and already there's a big mythos surrounding him. There's allegedly a story or segment where Gutman went scuba diving, appeared in a tank top, or shirtless, and people have been going mad trying to find it. I searched through the ABC News archive videos and to my knowledge, and unless I missed something huge, he's always appeared fully clothed. Sorry folks. The last person to scuba dive on ABC appears to have been Sam Champion.
Is there a bio for Matt Gutman? No, nothing official or formal is online, which is making him something of an enigma and mystery to everyone. As I said, I've brought this to his attention and he's working on something and will let me post it when, you know, he gets it done and isn't working his behind off for ABC covering this big oil situation in Louisiana. But, here is some information that'll have to satisfy you for now:
* He was born in 1977.
* He's married, a husband and a father.
* Work wise, he's based in Miami.
* Before being based in Miami, he spent 7 years in the Mideast covering the intifada, the Wars in Iraq and Afghanistan.
* He worked with ABC Radio but (thankfully) was given more opportunities to be in front of the camera.
Is Matt Gutman on Twitter? Yes … but apparently he's not really into it. Maybe if we can get enough people following him, he'll update us more via Twitter. Follow him @mattgutmanABC
Matt Gutman … shirtless? Okay, most people seem to flock to this blog for the epic 'shirtless' photo. And I can deliver, somewhat. Below is a collection of photos from Matt's Facebook page that, as you read, Matt graciously gave permission to use to feed your need for as much Matt Gutman as your mind can handle. There's a pic of him showing how he stays fit – Iron Gym! Want to see him doing a pull up? Shirtless? Well, it's a small image but it's shirtless, it's Matt Gutman and it's below along with other images from Matt's travels around the globe – how's your mind? Blown?

As long as Matt Gutman is around and reporting the news, I'll be updating the blog with more info and pics as they arise.
Follow The Man Crush Blog on Twitter | Facebook | Tumblr