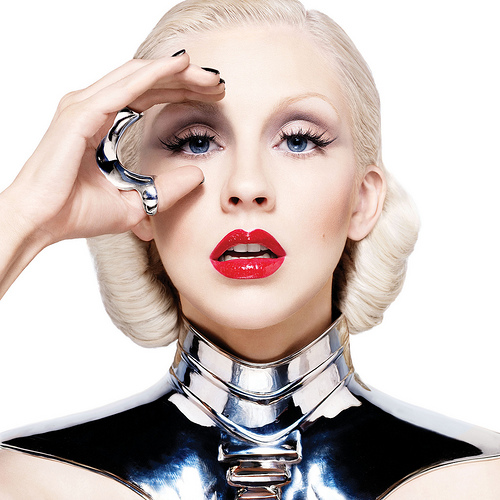 'Bionic' [DELUXE] Tracklist
———
01. Bionic 3:23
02. Not Myself Tonight 3:08
03. Woohoo Feat. Nicki Minaj 5:30
04. Elastic Love 3:35
05. Desnudate 4:27
06. Love & Glamour (Intro) 0:13
07. Glam 3:41
08. Prima Donna 3:27
09. Morning Dessert (Intro) 1:34
10. Sex for Breakfast 4:51
11. Lift Me Up 4:09
12. My Heart (Intro) 0:20
13. All I Need 3:35
14. I Am 3:54
15. You Lost Me 4:19
16. I Hate Boys 2:26
17. My Girls Feat. Peaches 3:09
18. Vanity 4:23
Bonus Tracks
————–
19. Monday Morning 3:54
20. Bobblehead 3:01
21. Birds Of Prey 4:19
22. Stronger Than Ever 4:16
23. I Am (stripped) 3:54
24. Little Dreamer [iTunes Only]
'Bionic' is Christina Aguilera's new album and it's set to be properly released on June 8. Most fans though have had an opportunity to listen to Aguilera's new material due to the common practice of leaking the album weeks before the retailers sell them, and in some cases that's a good thing because it's free press: you have tons of fans hyping your album, new songs, doing far more for you promotion wise than your label and record company are willing to do. But, for some, it completely backfires.
A few weeks ago, I posted my initial review of the standard edition of 'Bionic', which you can read here. To sum it up, my initial reaction to 'Bionic' was not positive at all. It seems like a step-down artistically and vocally from her last studio album, 2006's 'Back to Basics'. As a long-time Aguilera listener and fan, I just couldn't understand how she would ditch everything that's made her popular and stand-out amongst her peers to make an album that honestly anyone with good looks and a pinch of singing talents could pull off with the same level of success. Now, I'm following up with a review of the 'deluxe' edition which is really just an additional five tracks. Do these tracks save this mediocre album? Is it worth an additional dollar or two? I'm afraid to report that the bonus tracks are really lacking and don't justify shelling out another few dollars to purchase it instead of the standard edition.
So, I've been listening to 'Bionic' now for over a week. Sometimes, my opinion changes after a few listens but that hasn't really been the case for 'Bionic'. I do feel I get the concept a bit more than I did when I first listened and reviewed Aguilera's new music. Take a look at the album cover: half woman, half machine. That art and concept plays a big role with the music on the album. It starts off very electronic, manufactured and off the wall: the opening track "Bionic" really isn't all that bad once you get over the shock of Christina rapping in the same style as M.I.A. The track sets the stage for this new chapter in her career: she's bold, she's bossy, she's cocky and confident – this isn't the 'Baby Jane' persona she sported for 2006's retro-jazz/pop fusion 'Back to Basics'.
The album moves from the very computer/technology enhanced 'Bionic' into the album's first single, "Not Myself Tonight". Really, it builds on the lyrics and theme of "Bionic"; she's not out to continue 'Back to Basics' or even go back to her style in 'Stripped' or her first album. She's really all over the place, willing to try on different styles and let herself become a new artist and woman through the variety of styles, music and tracks produced for her this time around. "Not Myself Tonight" is very club-orientated, in-your-face, unapologetic. It's upbeat but features her strong vocal skills. From here, she jumps from the club into the bedroom with "WooHoo" that features rapper Nicki Minaj. This is the album's "Dirrty" or "Get Mine, Get Yours" and opens the door to a slew of tracks, some explicit, about sex, erotica, and pleasure.
This, for me, is when the album starts losing a bit of steam. "Elastic Love" and "Desnudate" aren't really 'Christina Aguilera' tracks. For some, that's a good thing – she's trying new things, she's not over-singing, she's trying new styles that really aren't pop but aren't hardcore either. On the other hand, they sound very random and aren't as strong as the album's first three tracks. From here, the album seems to meander and wander, trying to bring the tracks together with intros and 'themes' but never really finding its footing. We stumble into the world of fashion and couture with "Love & Glamor (Intro)" and  "Glam". In my opinion, "Glam" is one of the weakest points of the album. It attempts to take on style and fashion in the way that Madonna did with "Vogue" or Lady GaGa did with lesser success and notoriety with "Fashion". It just doesn't click and has some vocal theatrics thrown in to make it less monotonous.
After we get a (bad) taste of fashion, we get a brief, fun, flirtatious club track with "Prima Donna". Again with the randomness of the songs. I like the track, again there isn't a lot of singing beyond a few runs and theatrics tossed in, but it some ways it's a follow-up to "Not Myself Tonight" with Aguilera playing the role of 'dirrty' temptress. After convincing the listener of her sensual power, she brings the album back into the bedroom with "Morning Dessert (Intro)" and "Sex for Breakfast". Again, we hit a snag. Both of these tracks attempt to be really sensual, sexy and alluring but fall flat and end up being skip-worthy. Do we really care to hear about Aguilera's sex life and unfulfilled fantasies? This marks what I consider to be the end of the 'bionic' side of the album as now she ditches the electronic, mechanical, computerized sounds for something more organic and human.
"Lift Me Up" is a soft ballad that really shows off her voice. To me, this is the first time on the album where we're re-introduced to the Christina Aguilera we all know and love. With this song, she doesn't need to be explicit, cuss, be overtly sexual to get our attention. She just has to sing and "Lift Me Up" brings heart, emotion and sincerity into a rather sterile album. She feels as if she has to shake the electronic/computer assisted setup as she warms up through some of the ballads."My Heart (Intro)" only serves to move the album into the 'ballad' section while "All I Need" puts the listener to sleep with a lullaby suitable for children but just too plain and dull for adults. "I Am" tends to be a fan favorite but for me, there's something missing. The track is just Aguilera going down a list of adjectives that describe her and it's really stripped down and light, floaty … again, further in the direction of slowing the album down to a halt. "You Lost Me" rounds up the ballads section in a retro, doo-wop type way. The track sounds like a leftover from 'Back to Basics' but I like that it was heart felt and wasn't as slow as the other ballads.
The last three tracks of the 'standard' edition revs up the engines for a grand-finale. "I Hate Boys" is a fun, rock/pop type track where Aguilera ditches the electronic touch for a sound that's much more gritty and real. To me, though the track didn't feature her usual style of over-the-top singing, I really enjoyed her rock edge on this track. If the entire album had been like this, I wouldn't have minded. "My Girls" featuring Peaches is an okay track, but feels a bit unnecessary since it has Aguilera spending an entire track to sing her praises and thanks to her collaborators, producers and writers. It's hard to get into considering it's a song about the making of the album, something that only she or her friends/producers could really enjoy. The standard album ends with "Vanity", a track similar to "Prima Donna" in that Aguilera sings her own praises, toots her own beauty, calls herself a 'vain ass b*tch' and proclaims that she's not just a pop force to be reckoned with but a 'queen' and that none of her doubters (ahem, GaGa perhaps?) should even consider laying a finger on her 'throne'. She ends the album with a bold question: "Let's not forget … who owns the throne." Followed up by her child (seriously, no joke) piping in, "You do mommy."
Now, for the 'deluxe' or bonus tracks. For an extra few dollars you can purchase the deluxe edition that comes with five tracks not available on the standard edition. "Monday Morning" really isn't a bad track, but there isn't much to it either. It's a light, throw-away track that's a bit upbeat but isn't anything remarkable. It doesn't fit with the rest of the album at all style or subject wise so I get why it was left off as a standard/regular track. "Bobblehead" is, in my opinion, the best of the bonus tracks. It's very M.I.A. style wise and doesn't feature much singing. Instead, Aguilera raps about how stupid and air headed some women can be. The music is nothing more than a beat but it fits with the style of the title track "Bionic". The Ladytron produced track "Birds of Prey" sounds like it tried to pull-off what Christina claimed the whole album was supposed to be like – futuristic. It's very techno/electronic, a bit dark, moody … but again, doesn't go with the finished product of 'Bionic' so was ditched for 'bonus' material. "Stronger Than Ever" starts off almost like an acoustic-track and then progresses into an Evanescence-like rock/alternative track. Like "Birds of Prey" it's dark, moodier but doesn't click with a majority of 'Bionic'. The last bonus track is a stripped-down version of "I Am". The original version was pretty-close to being stripped and acoustic so this track feels a bit repetitive and unnecessary. Those who purchase the album from iTunes will get an additional track, "Little Dreamer", which is pretty straight-forward pop. It sounds a bit unfinished and rough but the style and music recalls her pop beginnings from her debut album.
So, we now have been exposed to Christina Aguilera's 'Bionic' in all it's glory. After a week of listening to the album, I have to say it's still, in my opinion, Aguilera's weakest album. She spend a majority of the album and lyrics trying to re-assert herself as a pop/music act to be reckoned with. Is this necessary? Sure, she's been missing from the scene for a while (though she did emerge for that Target 'greatest hits' and lackluster "Keeps Getting Better" track) so I guess she feels threatened by all the press that's trying to pit her against all of the acts that've come into the scene since her departure: GaGa, Pussycat Dolls, Gwen Stefani, Fergie, just to name a few. Her response? She tries to make an album that's dance, purely fun and without much heart and substance. Really? What makes (or made) Christina Aguilera stand out amongst her peers in the music industry is the fact that her music, image and style didn't try to imitate or copy anyone. When she emerged with "Dirrty", she was criticized for being overly sexual, dressing in hardly nothing, piercing her nose … you know, being completely different from folks like Britney Spears. Even 'Back to Basics' was a huge risk: she went for music that was pop but had influences from older artists and genres. Now, 'Bionic' feels like a desperate attempt to stay relevant. She's ditched the one thing that really made her stand out: her vocal talents. She spends the album trying to be a dozen different artists and the music definitely suffered.
Even after a week of listening to the album, I feel it was a sloppy effort. It doesn't at all sound like it took two or more years to piece together. It sounds like it took perhaps 2 weeks at most. Unlike in the past albums, the songs really don't blend well together. I found myself going back and listening to her older albums 'Stripped' and 'Back to Basics'. With those, the tracks and music fit together to make one massively, addictive album. I can listen to most of 'Back to Basics' without skipping a track, and found the tracks of 'Stripped' complemented and built upon one another. Not so with 'Bionic'. This album sounds like a music sampler: so many different styles, lyrics, attitudes and tracks thrown together that don't work together to form a great album but instead work against one another. She gets into throw-away pop tracks that any artist could pull off and perform; she touches on ballads that feel cold and staged. Where's Christina Aguilera going with this album?
I'm not surprised that "Not Myself Tonight" isn't resonating with listeners. Yes, for hardcore Christina Aguilera fans it's considered a good track, as is the entire album, but for the casual listener? I don't think so. It feels like just another album that any other pop act would release. I felt a bit turned off by her attitude with this album as well. She's clearly not opposed to sampling and borrowing from the styles of other music artists but the lyrics speak another story. While in interviews she's talked about how she has no animosity toward anyone, her lyrics suggest she's in defense mode. She's dropped the singing (her strong point), is trying really hard with her image in an attempt to use fashion to overcompensate for unimpressive music and spends the majority of the album singing her own praises and convincing us that even with being a mother and wife, she's still sexy and is the same envelope-pushing artist that gave us "Dirrty" years ago.
I can't believe Aguilera is pushing this album onto her fans, trying to act like she's giving us her best. This is no 'Stripped' even though it desperately attempts to be boundary-pushing and just as provocative; it is no 'Back to Basics' where she sang her behind-off and demonstrated how she's definitely got the vocal talents to place her high above her competitors; hell, this isn't even like the self-titled debut where she really gave us pop and dance music alongside heartfelt power ballads. This is just another album, a weak one, where she's really over reached and failed to pull off the greatness she'd hope to achieve. 'Bionic' is actually aptly titled because like any machine, it's not perfect. It's not firing on all cylinders, it's leaking talent, it's sluggish at parts and just isn't performing at optimal speeds. I hope Aguilera follows up with an album sooner rather than 4 years later with material that's better suited for her and truly returns her to the pop 'throne' she thinks she's earned.
"Like" The Man Crush Blog on Facebook!
Follow me on Twitter @Decaptain