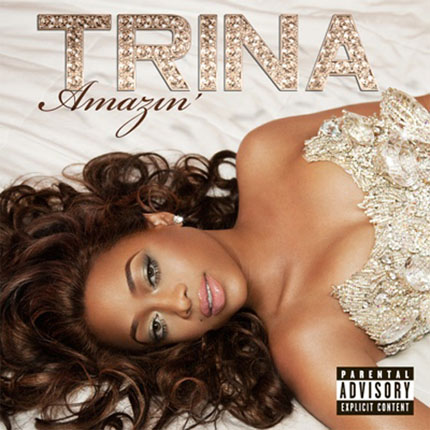 Trina returns to the scene with her fifth studio album 'Amazin". Even though she's sporting a rather glamorous look for the album cover and though she seemed to aim for crossover appeal with her last album 'Still Da Baddest', 'Amazin" sees Trina pretty much singing and covering familiar territory. I think for some listeners, this album will be more appealing than the last because it definitely features a more explicit set of lyrics, some racy songs, some heavy beats and doesn't try so hard to reach beyond the already established fan base. For others, 'Amazin" may disappoint as it has Trina singing about her usual things – fame, money, sex and power. For me, I fell somewhere into the middle. I was expecting a lot more based on the singles "That's My Attitude" and "Million Dollar Girl". What I found was that the album was average: there's nothing truly remarkable or 'amazin" about it and it feels like it's stuck in a rut with her really not breaking any new ground musically.
The Good: Trina definitely brought a lot of attitude and personality into this album, more so than the last. The album starts with her commenting on her career and how she's at the top of her game while others have faded and fallen over the years. "Million Dollar Girl" oozes confidence as she boasts about her wealth and material possessions;  she gets very explicit in "Dang A Lang" and really holds nothing back; she takes on men creeping and cheating with "On Da Hush" and talks about putting other women in their place and taking on conflict in "Let Dem Hoes Fight". The tracks that came out best were definitely those where she's trying to make a statement and is full of attitude and confidence. I also liked that none of these tracks had the same rap/pop feel like a lot of the tracks on 'Still Da Baddest'. There were more tracks on this release that stood out or sounded truly fresh and new and not just recycled from the previous album.
The Bad: A few things kept me from really enjoying this album. The first track and the last really didn't start or end the album on a high note. 'Amazin" is nothing but talk up until about a minute and forty-eight seconds and the rest of the song really isn't much of anything. Then the last song, while it's personal and expressive for her, leaves the album on an awkward note. It's completely watered down, weak and forgettable and it just makes you wonder what just happened. With the title of the album being 'Amazin", I expected an album full of tracks that'd live up to that title. Not so much. While the tracks were good, none of them were great or close to amazin'. She's singing about the same thing she's been singing about since her first album, except with less bite and a bit more polished. For the most part, I really expected more from the album. She's definitely better on the tracks that are upbeat, somewhat club/dance orientated. The slower tracks were okay but none of them felt great and took away from the the quick paced, upbeat, attitude-ridden tracks.
In all, a good album, but I'm still on the fence on whether it's mediocre or just good. Lyrically, it's nothing to gush over and nothing new from what she's covered before. Musically, there's definitely some fun and great moments but nothing groundbreaking or worthy of the title of 'amazin".
Listen To These: "White Girl", "Let Dem Hoes Fight", "Million Dollar Girl", "That's My Attitude", "By Myself", "I Want It All"