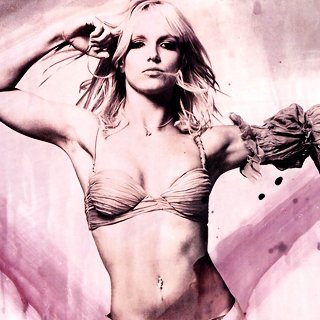 Last week I seemed to focus in on health and fitness issues and believe me, there will be more posts to continue that trend. I am also focusing on other topics of interest and the past few days have been all about music or women in the entertainment industry. I wrote about the awesomeness of Reba McEntire, then about 11 underrated women in the entertainment industry. Now I'm taking on the cultural pop icon that is Britney Spears.
2009 marked a momentous occasion in American pop culture; it was Britney Spears' tenth year in the music industry. Actually, it was her eleventh if you consider Spears' first single ' … Baby One More Time' was released in 1998. Many may dispute that this is an occasion worth celebrating. If there is a polarizing pop culture figure for Generation Y, it is definitely Britney Spears. We are talking about someone who has become a staple in pop music but is constantly criticized for either lip syncing or relying too heavily on the help of autotune and the latest technology to fine tune her voice. This is the same woman who in 1999 blatantly flaunted her sexuality while dawning a schoolgirl's outfit while dancing provocatively down a high school hallway. The same pop starlet who, eight years later, became a media spectacle for shaving her head and attacking an SUV with an umbrella. In such a short span of a little over a decade, Spears has definitely become a pop phenomena, one that has transcended not just her catchy and suggestive music but one that has managed to secure a place within American pop culture alongside figures like Elvis and Madonna.
It is rather easy to dismiss Britney Spears and slap a label on her. One could say she's a 'fad', someone who has waning popularity and is not deserving of her pop star status. One could focus on her marriage and motherhood and point out her missteps and call her a trainwreck of epic proportions. As someone who has grown up and witnessed Britney Spears rise to fame and seen all the bumps along the way, I would say those attempts to sum her up would be entirely incorrect. You see, Britney Spears is truly the epitome of the American dream. In looking back over the past decade alone, I think it is evident that there is something endearing and special about Spears that has kept her in the limelight. For someone who is criticized for her music, singing, image and personal life, Spears has done something right to remain at the forefront of the Hollywood scene. In mid October 2009, she celebrated her third number 1 song on the Billboard Top 100, '3', a single taken off her release 'The Singles Collection'. That's an accomplishment that shouldn't be overlooked considering many of her contemporaries like 'NSYNC, Christina Aguilera, Backstreet Boys and Jessica Simpson (to name a few) are still present and making music but seem far less popular and more like footnotes to the 1990s.
Britney Spears seems to have a love/hate relationship with many Americans. She is the epitome of the American dream, as she crooned in 2007's 'Piece of Me'. Born in Kentwood, Louisiana, in 1981, Spears has lived the life many dream of and yet many fear at the same time. She's risen from middle-class America, working hard since she was young to overcome her roots to make it big. Her career began with her stint on the Disney Channel's Mickey Mouse Club. In 1998, she topped the music charts with her debut single '…Baby One More Time'. She graced the covers of magazines like Rolling Stone, dated fellow pop star Justin Timberlake, continued to churn out catchy music with memorable music videos to match. Spears set out to become famous and achieved it at last. She became a household name, her image was everywhere, she was not just a music star but a pop icon that seemed to bewilder many who had not seen an act like Spears since the 1980s with Madonna's rise to fame. While many couldn't get enough of Spears, many critics seemed to develop a dislike to her. She was the 'It' girl, the popular girl, the one that actually transitioned from humble beginnings to Hollywood, suddenly having it all. Jealousy ensued and Spears' trouble followed.
In 2004, Spears seemed to realize the American Dream with the fans, paparazzi and flashing lights wasn't all it was chalked up to be. What many saw as a dream life Spears appeared to treat as a nightmare. She wanted to pursue the classic American dream: being a mother, being a wife, having a simple life while still holding onto the fame and accomplishments she'd worked so hard, and sacrificed, for. She married a childhood friend only to annul the marriage 55 hours later. She attempted to embrace religion, though she chose Kabbalah, the religion of her childhood idol Madonna. She married Kevin Federline, a backup dancer, and had two children with him in the span of two years. Her career took a backseat as she struggled with marriage and motherhood and yet her popularity remained high. The media and America couldn't get enough of the saga that was Britney Spears' life.
Spears' decade-long career goes beyond the music. It is more than the tracks that compose her first greatest hits album 'My Prerogative' or 'The Singles Collection'. In many ways, Britney Spears is everything Americans both admire and despise. Many envy her for her celebrity status and all the perks that come with being a pop icon. Some overlook how Spears fits into American society's consciousness with her pursuit of the American dream. Spears continues to be popular ten years later and a true American pop icon due to both her career and personal life. She is everything American culture loves; a success story as well as having a life best fit for a daytime soap opera. She's entertainment; yes, she comes off as manufactured and just another product of Hollywood at times. Like Madonna, she's a music star who does not have the best voice and has questionable actions, but she knows how to grab the public's attention and keep them interested in her.
The funny thing about the American dream is that many want it and yet it is human nature to be jealous and envy those who manage to capture it with even moderate success. Spears' may not be the best musician or the wisest entertainer, but she's one of those few who have spent her lifetime chasing after the American dream and managed to achieve what few are able to. America's fascination with Spears ten years after her debut album and after a decade of ups and downs comes with the desire to see our idols and icons struggle to hold onto all the perks and glam that comes with dreams coming true. In a way, to become and be an icon and figure in American pop cultures means one must work for, and suffer the price, of being famous. We saw it with tortured beauty Marilyn Monroe, with Elvis and even more recently with the child prodigy turned media spectacle that was Michael Jackson's life.
With the release of 'The Singles Collection' in November of 2009, the songs from Spears' career conjure up memories of not so much the music but all of the twists and turns of the pop icon's life at the time each single was released. I remember that even after a decade, Americans still care enough about Britney Spears to enable her to tour and pack different venues, or to release a song with little fanfare and promotion and have it go from pure obscurity to being the top song in the country. I remember all of the other acts such as Christina Aguilera, Gwen Stefani, Fergie and Lady GaGa that have arisen over the decade in an attempt to claim the 'Princess of Pop' title Spears held at one point but how their time seems to have come and gone (except for GaGa who's riding her success now). Yet, Spears remains. There's something endearing, extremely likable and everlasting about the phenomena that is Britney Spears that leaves an impression on the public and captivates the audience. I'm sure there will be artists who will have more success and bigger hits than Spears, such as Lady Gaga recently, but still, I have a feeling Britney Spears will still be chasing after the American dream another decade from now and that we will still be talking about, and debating, the legacy she'll have within American pop culture.
Read a full recap of Britney's career thus far by reading the full version of this article on Associated Content.
And check out my review of Britney Spears' "The Singles Collection" Here
Follow me on Twitter @decaptain