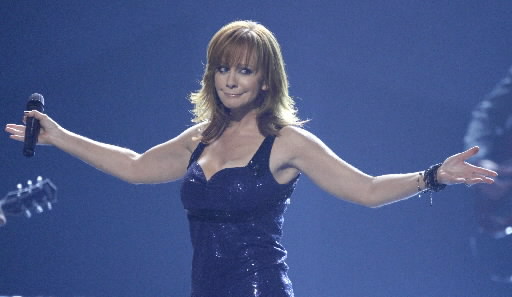 I run with Reba McEntire. Not literally (though how awesome would that be?) but I have 199 of Reba McEntire's songs programmed into my iPod and even though I have Amadaeus (That's my iPod, and yes, I named it) on shuffle, there's a good chance a Reba McEntire song will be playing during one of my runs. I'm always curious as to what other runners I encounter are listening to. I often times run near a college campus but unless it's spring or summer, I usually encounter an older crowd while I'm out. So I wonder what that old granny is listening to – is she playing into my preconceived stereotypes I have in mind for her by listening to old Doris Day or old songs from the Lawrence Welk show … or is she rocking out to Good Charlotte and Lil' Wayne?
What runners listen to while they're sweating and hitting the pavement is always something I'm interested in. I know what I listen to would probably surprise a lot of runners. Me, I'm a short, black/African-American male in my mid 20s so I'm sure many passersby probably think I'm listening to rap or something. In fact, that's probably the last thing I'm listening to. When I run, I often listen to Britney Spears, Dolly Parton, Reba McEntire, Madonna and whatever else is on my iPod. I have a lot of pop music on my iPod and then a selection of popular country music (the Dolly and Reba). I also have some music from soundtracks that include 'Little Shop of Horrors', 'Young Frankenstein', 'Glee', 'Enchanted' … just to name a few. Yes, so while someone may be running around with the typical Lil' Wayne, Jay-Z and Eminem (or whoever is 'in' right now, I don't keep track of that side of the music genre), there I am running around to Dolly Parton singing 'Daddy Was An Old Time Preacher Man' or Reba's 'Climb That Mountain High'. I like pop, I like variety, I like my female singers and music artists … what can I say? I'm from the South and I'm definitely a queer little fellow.
It'd be nearly impossible for me to come up with the ultimate workout playlist but some of my favorite songs to run to are:
1. "Consider Me Gone" by Reba McEntire
2. "Give It 2 Me" by Madonna
3. "Radar" by Britney Spears
4. "Get It Out Me" by Janet Jackson
5. "Monster" by Lady GaGa
6. "Knowing Me, Knowing You" by ABBA
7. "Video Phone" (Extended Remix) by Beyoncé feat. Lady GaGa
8. "When Love Takes Over" by David Guetta feat. Kelly Rowland
9. "Me And Bobby McGee" by Dolly Parton
10. "Underneath It All" by No Doubt
11. "Cruise Control" by Mariah Carey
12. "Work That" by Mary J. Blige
13. "Forever Young" by Rod Stewart
14. "Totally Hot" by Olivia Newton-John
15. "Killing You Hoes" by Trina
16. "Simply the Best" by Tina Turner
17. "Zero to Hero" by The Muses from the Hercules soundtrack
18. "Feed Me" (Git It) from the Little Shop of Horrors soundtrack
19. "Like A Virgin" (Confessions Tour Mix) by Madonna
20. "3" or "If U Seek Amy" by Britney Spears (my iPod is fixated on both of these tracks and all of the remixes I have for them)
This is just of course a partial list. What do you listen to while you run or workout?
Follow me on Twitter @decaptain