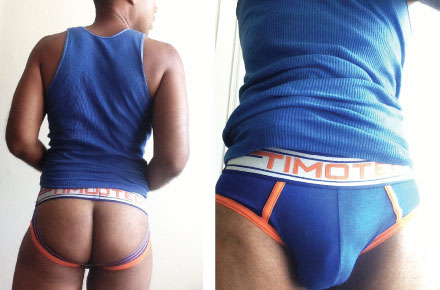 Wouldn't it be funny if I spent all this time blogging about hot underwear yet went around rocking some baggy Fruit of the Loom briefs? In a very "Practice what you preach" kind of gesture, I'll literally be showing you what I'm wearing and dishing out my opinion on whether it's worth your money. This week I'm reviewing Timoteo's Double Cross Brief. This post is illustrated with actual shots of me wearing this product (I either say you're welcome or apologize for my ass being all up in your face today.)
The 411: Timoteo's Double Cross Brief is not just your ordinary run-of-the-mill brief. Oh no! As you can see from the photo, it combines the idea of the jockstrap along with the brief. Kind of like a mullet, you have your business in the front in the form of a nice, roomy brief and party in the back with your ass hanging out and support with some nice straps. It sits low on your hips, is very roomy in the front unlike most jockstraps that kind of cram everything into a small little cup and provides a little support for your rear end.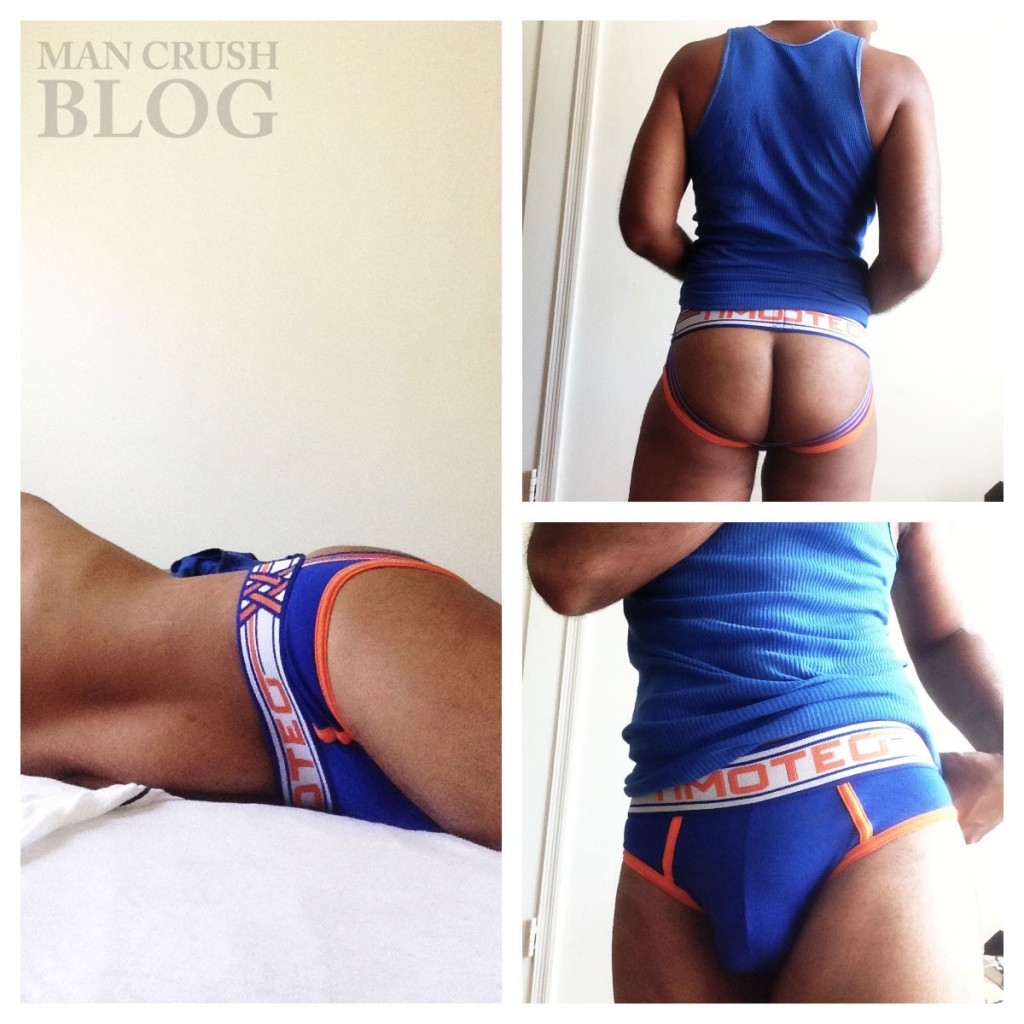 What I noticed is that really, this isn't at all restrictive. The brief is very stretchy and roomy. This may be due to the fact that it's made from cotton spandex (96% cotton, 4% spandex to be exact) so again, unlike cheap briefs or a lot of jocks, you have the room and ability to move around be active while still staying in place.
Why I Like Them: I picked these up at Universal Gear in New York City, so imagine walking into a store that offers up almost every name-brand in almost every variety you could possibly want but being drawn to these. The colors are what caught my eye first. My profession is graphic design so I'm all about colors in interesting combination. The mix of blue and orange felt exciting and very pop-ish. Go in for a closer look at the band and the stitching with the double-crossed X's along with the Timoteo name gives the brief a rather  retro sexy-high school gym class vibe.
Care: These can be machine washed in warm water with like colors. Warm tumble dry.
Should You Buy Them: Now, when I'm in the gym or am out running, I like wearing jocks. This is a brief, but it's sort of a jock … that being said, I feel these are more for everyday wear or for those bedroom occasions. Since it is a brief, you have a slight restriction that keeps you from having that full-range of motion a full-on jockstrap gives you. That shouldn't keep you from purchasing this product, though. These are very comfortable so if you have a nice ass and want to show it off without covering it up with a brief, you should get these. If you plan on hooking up and want to surprise your partner with thinking you're wearing a brief until you turn around and show them the backside, these will be a nice, uh, conversation starter.
Where To Buy: You can purchase these from Timoteo for $22 (USD) in Yellow, Black or Blue. Click Here To Buy.
Follow The Man Crush Blog on Twitter | Facebook | Tumblr | Pinterest | Newsletter