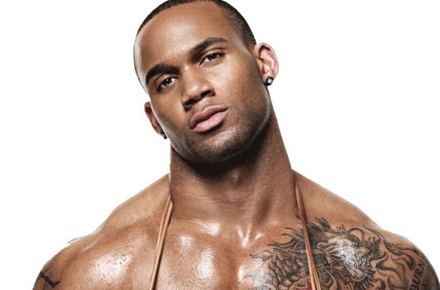 Seems like I've been on a football high this weekend and that's ok with me! Trust me, I'm not going hetero, I just like some of the men in the game. Today I'm crushing on New York Jets player Bret Lockett. Brett plays in the position of safety but perhaps he's a bit more known for his plays off the field than he is for his game. Way back in the day when Kim Kardashian was playing up her doomed relationship with Kris Humphries to drum up the ratings for her E! reality show, Bret at some came out and claimed he and Kim had had "relations." I'll just leave it at that because I don't know any sane person who'd want to claim such a thing! Anyways, Bret is quite the looker and at 6'1, 220 lbs and all that muscle and those abs, I'm sure he's getting a lot of play these days. You can follow Bret on Twitter @BretLockett26 or check out his website www.bretlockett.com.
Follow The Man Crush Blog on Twitter | Facebook | Tumblr
Click on thumbnails to view larger images.