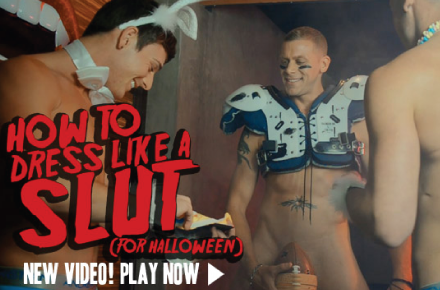 It's not only the end of another month but it's Halloween! While I don't really consider Halloween to be a holiday per se, it is a great excuse to role play outside the bedroom and dress up in as little clothing as possible while parading around in public. In it's latest promotional video Andrew Christian, "How To Dress Like a Slut" shows various models dressed up in sexy costumes that incorporate Andrew Christian underwear. How creative! Sarcasm aside, it's a rather eye-catching video. The video features models Cory Lee, Sean Paul Lockhart (Brent Corrigan), Jason Medina, Quinn Jaxon, Johnathan Myers, Curtis Jackson and Anthony Lopez. Visit Andrew Christian's site www.andrewchristian.com for more of their collection or follow them on Twitter @AndrewChristian.
For the uncensored video, click here.
Follow The Man Crush Blog on Twitter | Facebook | Google+ | Tumblr
Click on thumbnails to view larger images.