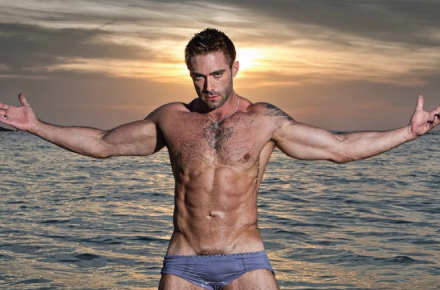 A few weeks ago when running the images Men At Play released of their 10th anniversary shirts and tanks there was one model I was unfamiliar with but immediately crushin' hard on and it's today's featured crush, Jake Genesis. Jake is a bit new to the industry but already has quite a few scenes shot and more on the way. He's 32 years old, 5'10" tall, 185 lbs, versatile and resides in Madrid. Before getting into porn Jake was a cop. I know, can you imagine this hunk of a man in an officer's uniform coming at you? That within itself is a bit of a fantasy and porn waiting to be filmed. He recently released his own website full of pics, scene information and a rather comprehensive interview conducted by The Trophy Blog that you can read by visiting jakegenesis.com. You can also follow him on Twitter @JakeGenesis.
Some of the images in today's gallery are NSFW and intended for those 18 years or older. The Man Crush Blog is working on its own interview with Jake Genesis. What question would you ask Jake if you had the chance? Leave your question for Jake in the comments section below and it could end up in our interview.
Follow The Man Crush Blog on Twitter | Facebook | Google+ | Tumblr
Click on thumbnails to view larger images.