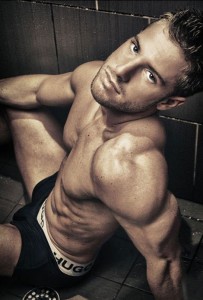 It should come as no surprise that I'm a fan of a magazine like DNA that always manages to find some of the most attractive men in the world to feature on the cover and inside the magazine. So when I saw today's featured crush, singer and model Josey Greenwell on the cover of DNA issue #142 I knew I had to share him and my crush on him with you all.
This Kentucky-born stud may be great eye candy but there's more than meets the eye. He's also a great musical talent. He's opened for Little Big Town in 2009, Dierks Bentley, and Mark Chesnutt. Yes, he's a little bit country but surely he's hot enough to still rock your world. I mean, the abs, the body, the muscle … he's got my heart and other parts of my body beating to a slightly different rhythm.
Josey is all over the internet. You can follow him on Twitter @joseygreenwell, become a fan of his Facebook page, check out more of his music on Myspace, check out his YouTube channel or simply visit his website www.joseygreenwell.com for tons of photos and more information. As a bonus treat, check out the video below of Josey performing a cover of Rihanna's "California King Bed."
Follow The Man Crush Blog on Twitter | Facebook | Tumblr
Click on thumbnails to view larger images.
Category: man crush