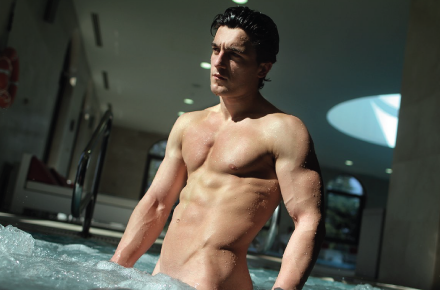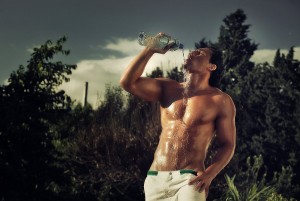 Here's a nice way to end the week: another muscled, hunky athlete to swoon over as we head into an extended weekend. Today's crush may not be all that familiar to you but when he popped up on The Man Crush Blog's Facebook page, I had to take note and feature him.
Rati Tsiteladze is an athlete (with obvious model-like features) Georgia (the country, not the state). The list of this guy's accomplishments is long and impressive, no innuendo intended … kinda sorta. He's won the distinction of being the best fighter of Region (Georgia) 2005; International Champion 2007-2007-2008-2010 "Kickboxing"; International Champion 2008 free wheight category "Sanda"; National Champion 2006-2008 free wheight category "All Karate."
But really, as usual, the only sport and games I familiar with is that of the love and flirt sort so if you're interested in reading more about Rati and his many awards and accolades, become a fan of his on Facebook. And for now, take a gander at his hot body … of work, that is in the gallery pics below.
Follow The Man Crush Blog on Twitter | Facebook | Tumblr
Click on thumbnails to view larger images.
[nggallery id=47]