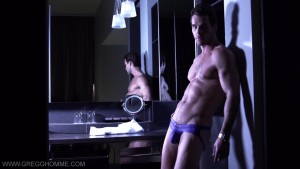 The folks over at Gregg Homme sent this video from their latest video campaign. Here's what they had to say about "Room Service":
"For the second part of its video campaign, GREGG HOMME is offering a feast for your eyes: in a hotel room, fantasies can reach unexpected peaks! If you think that Thierry will spend a quiet night, think again! GREGG HOMME definitively knows how to trigger excitement and this new video release is another great example of their effectiveness.  If you are now wondering where the next GREGG HOMME video campaign will bring the fans, just close your eyes and think for a moment: what would be your wildest fantasy?"
If you didn't catch The Man Crush Blog's overview of GREGG HOMME's Boytoy collection check it out here. Check out Gregg Homme's website. You can also follow them on Twitter @GreggHomme or become a fan of their Facebook page.
Follow The Man Crush Blog on Twitter | Facebook | Tumblr