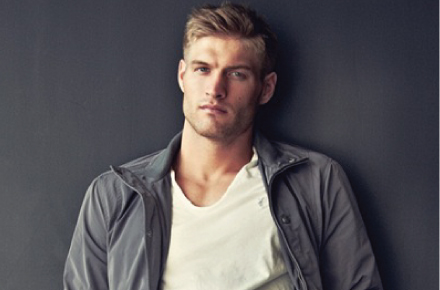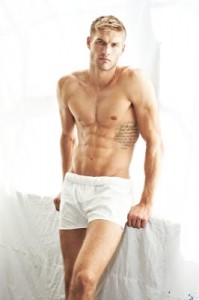 Even though we're deep in spring, I've gotta say I'm feeling a bit like Frakenfurter from The Rocky Horror Picture due to my desire to make the perfect man. With a lack of suitable eye candy and playmates where I live I have to resort to fantasizing and sketching out the perfect man and like Frankenfurter, today's crush comes equipped with blond hair and a tan–Texas-bred model Jacob Sones.
Don't let his photos fool you–Jacob is a larger-than-life hunk of a man. Towering at 6'2 1/2, 32 inch waist and a eye-gouging, mouthwatering 13 inch shoe size (let's pray he's packing 13 inches elsewhere), he's definitely a cute, hot model that we need to put on our radars.
You can follow Jacob on Twitter @jacobsones55 and on Facebook.
Follow The Man Crush Blog on Twitter | Facebook | Tumblr
Click on thumbnails to view larger images.