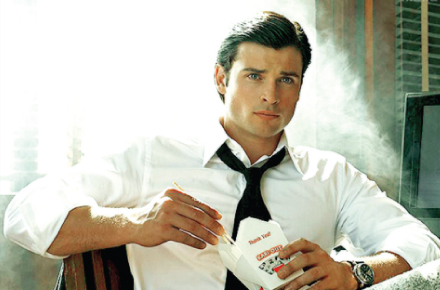 Last night was the series finale of the CW's Smallville (collective sigh of despair). I will admit that I watched this show, but not because I'm a fanboy or super hero fanatic. Like everything, I watched it just for Tom Welling. For 10 seasons we've been treated to seeing this hunk, muscular, Adonis-like man on television and what a treat it's been. I mean, he started off being cute and studly and over the years he's packed on the muscle, filled out a bit and has gone from being a pretty teenage dream to a guy that at one glance and crooked smile has you throwing up your hands praising the Lord for crafting such perfection.
I'll definitely miss seeing Tom Welling each week. Those lips; those shirtless scenes; the vulnerable emotions he exhibited that had you wishing you could be Lois Lane just for a day for the sake of having the real "super" man experience.
Check out the Tom Welling gallery below and say a little prayer that Tom Welling manages to find another role that'll require tons of shirtless scenes.
Follow The Man Crush Blog on Twitter | Facebook | Tumblr
[nggallery id=5]